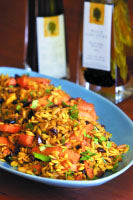 1 cup Orzo or Rizoni Pasta
Olive Oil
Ground turmeric
4 whole carrots, peeled
1/2 cup toasted pinenuts
1/2 cup currants
Wild Country Fig Balsamic & Wine Vinaigrette
Fresh coriander, chopped to garnish
Cook pasta in plenty of boiling salted water which you add about 1 tsp of turmeric to colour yellow. Drain and toss with Olive Oil.
Cut carrots into large chunks and place in a roasting dish, sprinkle liberally with the Bacon & Garlic Rub. Drizzle with Olive Oil and bake at 180 for 30 minutes or until the carrots are just cooked through.
Remove from oven and toss into the cooked orzo with the toasted pinenuts and currants. Drizzle with a couple of tablespoons of Wild Country Fig Balsamic & Wine Vinaigrette and toss with about 3 Tablespoons of chopped fresh coriander.
You can also add other roasted vegetables such as eggplant, parsnip, courgette, red onion and capsicum which is even more colourful.
Serve with Moroccan Chicken or Lamb as a light lunch.