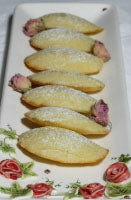 50g unsalted butter, plus 1 Tbsp for greasing the pan
1 large egg
40g caster sugar
pinch salt
45g flour
icing sugar for dusting

Melt all the butter over a low heat, then leave to cool. Do not over heat the butter so that it starts to separate as this will not give you the best result with the Madeleines.
Beat the egg, caster sugar and salt in a bowl for 5 minutes, preferrably with an electric mixer until it's light in colour and thick.
Sprinkle in the flour through a sieve. Fold in the flour, then most of the melted butter.
Leave aside a tablespoon of the butter for greasing the pan.
Leave the batter to rest in the fridge for 1 hour, then take out and leave at room temperature for half an hour.
Preheat the oven to 220C.
Generously brush the insidesof the baking pan with the reserved butter.
Place about 1 teaspoon of batter in each pan - the batter will spread through the mould.
Bake for 5 minutes approximately.
Turn out and let cool in a wire rack then arrange on a platter and dust with icing sugar with a dish of the Strawberry & Vanilla Syrup to dip each Madeleine into.