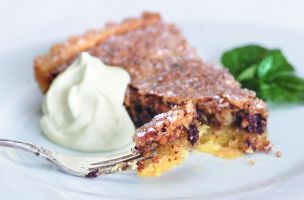 225g flour
170g unsalted butter
1 Tablespoon sugar
1 egg yolk
4 Tablespoons chilled water
Filling
200g Wild Country Reserve Quince Paste
20ml lemon juice
1 small orange, rind grated
1 small lemon, rind grated
1 tsp ground cinnamon
40ml brandy
230g blanched almonds, processed but still with some texture
115g unsalted butter
75g castor sugar
2 eggs
thick cream or crème fraiche to serve
In a food processor blend the flour, sugar and butter until you have a breadcrumb like texture.
Add the egg yolk and enough chilled water to form the dough.
Remove the dough and wrap in cling film. Place in the refrigerator for 30 minutes before rolling out on a lightly floured board and line a loose bottomed flan tin. Prepare to bake blind by covering with foil or paper and weights. Bake for 20 minutes at 180C or until pastry shell looks a light golden colour.
Filling:
Stir Wild Country Reserve Quince Paste, juice and 2 Tablespoons water over low heat until smooth. Spread over pastry base. Mix rinds, cinnamon, brandy and almonds in a bowl. Beat butter and sugar in another bowl until pale, then add eggs, one at a time, until just combined. Fold in the almond mixture and spread over paste. Bake in oven for 35 – 40 minutes. Serve with whipped cream.