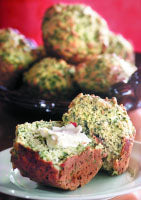 480g flour
4 teaspoons baking powder
pinch of salt
pinch of cayenne pepper
175g grated tasty cheese or a combination of parmesan, tasty, blue or colby
135g finely chopped fresh spinach or silverbeet
250ml milk
50ml Lemon Oil
3 eggs
2 Tablespoons Wild Country Red Pepper Marmalata
Cream cheese or 8 – 12 1cm cubes of feta cheese
Sift flour & baking powder. Add salt and cayenne pepper.
In a separate larger bowl blend milk, oil, greens, beaten egg, grated cheese and Red Pepper Marmalata. Make a well in the centre of the dry ingredients and add the liquids. Gently stir through without over mixing.
Grease 8 texas size muffin pans or 12 standard sized. Place a spoon of the batter in the base of each pan. Place a cube of feta or teaspoon of cream cheese in the middle before covering with another spoon of batter. Note : don't overfill the pans as they rise to almost double in size.
Bake at 180C for 20 – 30 minutes. Remove muffins from pans while still warm and for optimum taste, I serve these muffins warm so the cheese can be spread with extra Red Pepper Marmalata.