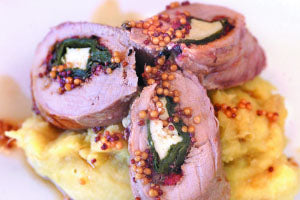 Pork Fillets get good thick fillets - allow 120g per person
Kapiti Chevre Iti Goats Cheese – Cut into 1cm thick logs
100g Spinach or Silverbeet leaves, trimmed & washed.
3 – 4 Tablespoons Black olive tapenade
½ cup white wine
Wild Country Old English Pub Mustard
Kumara mash to serve
Steam or microwave the greens for a couple of minutes to just wilt them. When cool enough to handle, squeeze to remove excess water.
Flatten the pork fillet. Take a good sharp knife and run this the length of the fillet until you have cut two thirds through. Open the fillet up and use a mallet to flatten it out. Don't turn it into schnitzel but ensure that you have got enough width to put the filling in.
To assemble spread a moderate amount of the tapenade over the inside of the pork fillet. Place a single layer of the greens over this. Run a line of cheese down the middle. Roll this up and secure with toothpicks. Bake at 180°C for 20 minutes.
Remove from oven and put the pork fillets on a dish to rest for a further 5-10 minutes. Heat the pan juices with ½ cup white wine and add a tablespoon of Wild Country Old English Pub mustard. Cook for a few minutes.
Remove the toothpicks and cut the pork fillet into 2.5cm slices. Put three to four slices on top of kumara mash and drizzle a little of the pan juices over.