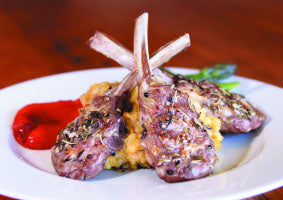 350g Pumpkin cut into large pieces and brushed with Olive Oil (Once roasted you want a yield of about 300g)
3 Tablespoons olive oil
1 medium red onion peeled and finely diced
1 cup risotto rice
3 cups chicken stock (hot)
Salt
Freshly ground black pepper
100mls white wine
50g parmesan cheese grated
Bake pumpkin in the oven until soft. Once cool enough to handle, remove the skin and cut pumpkin into 2cm cube chunks. If you have any particularly browned bits, you may wish to discard these also as they don't look great in the risotto. In a frying pan, heat 3 tablespoons of olive oil and saute the diced red onion until soft. Add the rice and cook for two minutes to coat in oil. Add the white wine and stir through the onion and rice. Add the heated chicken stock a ladle at a time. Each new ladle added, ensure the last ladle has been absorbed into the rice and the mixture is starting to look loose and creamy. When you are 2/3rds the way through the stock, add the pumpkin into the risotto. It will break down a bit as it is stirred in. Continue adding the stock until the rice is al dente to bite. Add the grated parmesan cheese, and salt and pepper to taste. I've served this with french lamb cutlets rubbed with Wild Country Wild Rubs Lamb & Chicken blend, blanched asparagus spears and roasted peeled red pepper slices.