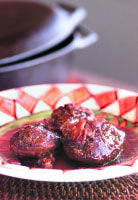 6 duck breasts
50g butter
Garlic Infused Olive Oil
5 slices streaky bacon chopped
4 Tablespoons Wild Country Cranberry Orange & Port Sauce
4 Tablespoons Wild Country Fig Wine Balsamic Vinaigrette
375mls chicken stock
250ml dry red wine
6 whole cloves
grated zest of 1 large lemon
salt & pepper
Sear duck breasts in a mixture of the butter and Garlic Infused olive oil then place in an oven proof dish with a fitting lid. Saute the bacon pieces in the same pan until light and golden. Add soya sauce, Cranberry Orange & Port Sauce, Fig Balsamic Dressing, chicken stock, wine, cloves and lemon zest. Bring to the boil then simmer for 10 minutes to reduce down a little. Pour over the duck portions and cook for about 2 hours at 150C. You may wish to thicken the gravy a little with cornflour, if so, let cook for another 10-15 minutes before serving to allow the cornflour to cook through. If the duck breasts are a little too firm when cooked, you can always shred the meat through the gravy. If you are using a whole duck for this recipe, roast the duck whole for an hour at 180C then remove from oven and let rest until cool enough to handle and cut into four portions.