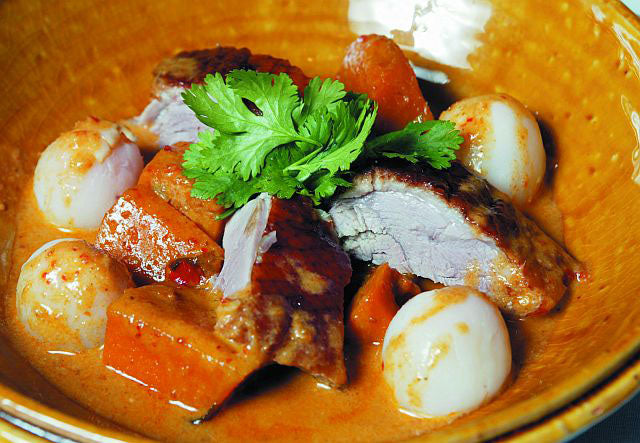 2 Tablespoons vegetable oil
2 tablespoons red curry paste
2 Tablespoons Wild Country Chilli & Orange Marmalata
6 fresh kaffir lime leaves (you can use dried or frozen)*
100g cubed pumpkin
2 Tablespoons palm sugar
2 Tablespoons fish sauce
2 cups coconut cream
1 Chinese roast duck cut into pieces*(or substitute chicken thigh meat and add a teaspoon of Chinese five spice into the recipe when you are frying the pumpkin off)
1 tin lychees drained (optional)
15-20 Thai basil leaves (or use a packet of the Holy Basil spice blend available at Thai Shops)
Steamed Jasmine rice to serve
Heat oil in a heavy saucepan and cook curry paste over medium heat for 1- 2 minutes until aromatic. Add Chilli & Orange Marmalata, lime leaves and pumpkin and stir to combine.
Add palm sugar and cook over low heat until slightly caramelised. Add fish sauce and deglaze pan. Add coconut cream and simmer until pumpkin is tender. Add duck and lychees and simmer gently for 1- 2 minutes. Add Thai basil and serve immediately with rice.
Note : if using fresh chicken instead of cooked duck, add the chicken pieces in while you are frying the pumpkin to ensure it is well cooked once the coconut cream is added.