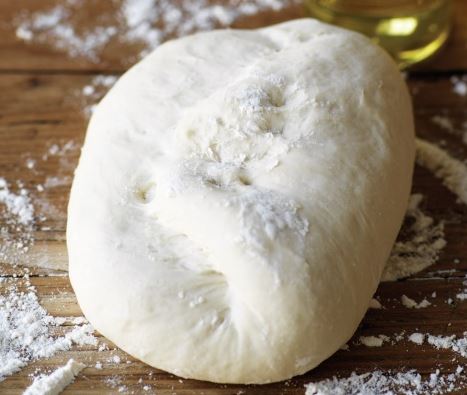 A tip is to make the dough a day before you want to use it and store in the fridge once it's doubled in size, punch it down and store. Can be divided into 4, wrapped in cling film and frozen until ready to use as well.
4 tsp dried yeast
450g plain flour
1 tsp sugar
1 tsp salt
4 Tbsp olive oil
220ml water
If using the breadmaker, put the ingredients into the bowl in the order above. Set to dough mode. Follow instructions to transfer to an oiled bowl.
If making by hand, combine the yeast with luke warm water for 10 minutes until the yeast starts to bubble.
Sift flour, add the sugar and salt and make a well in the centre. Add the yeast, water and olive oil and use a blunt knife to combine. Once the mixture starts to thicken, turn out onto a floured bench and knead to bring the dough together until nice and smooth. Roll into a ball and place in a lightly oiled bowl. Cover and set in a warm place until the dough has doubled in size. Punch down and divide to use.
Roll pizza base out on a floured bench until nice and thin place the base on the heated stone and add toppings from there.